Ok. Here is July in a nutshell. We spent the week after 4th of July at Capistrano Beach. We have a time share and go just about every year. It is amazing to look back at last year and see how small the kiddos were. They were just 5 months then and we weren't really able to do much with them. This year, what a difference. Of course anytime we took them out you get the inevitable questions. "Are those two sets of twins?", "Are those all yours?", "Quadruplets, you have your hands full!", etc.... Well we had a blast. My sister-in-law Beth and I took them down 4th of July afternoon. (we figured they wouldn't like the fireworks yet) Brian had some things to finish up at home and came down later that night. Yes, it takes two cars to fit everything that we need for the week. This picture is after loading half of it into the Burb already. The cage was full as well as the space behind it to the wall.
Brians brother Stephen, his wife Heidi and their two sons Hunter and Devin came down for the week end. We had a great time at the pool and beach. This was the kids first time in a pool. It took them a little bit to warm up to it, and then they loved it.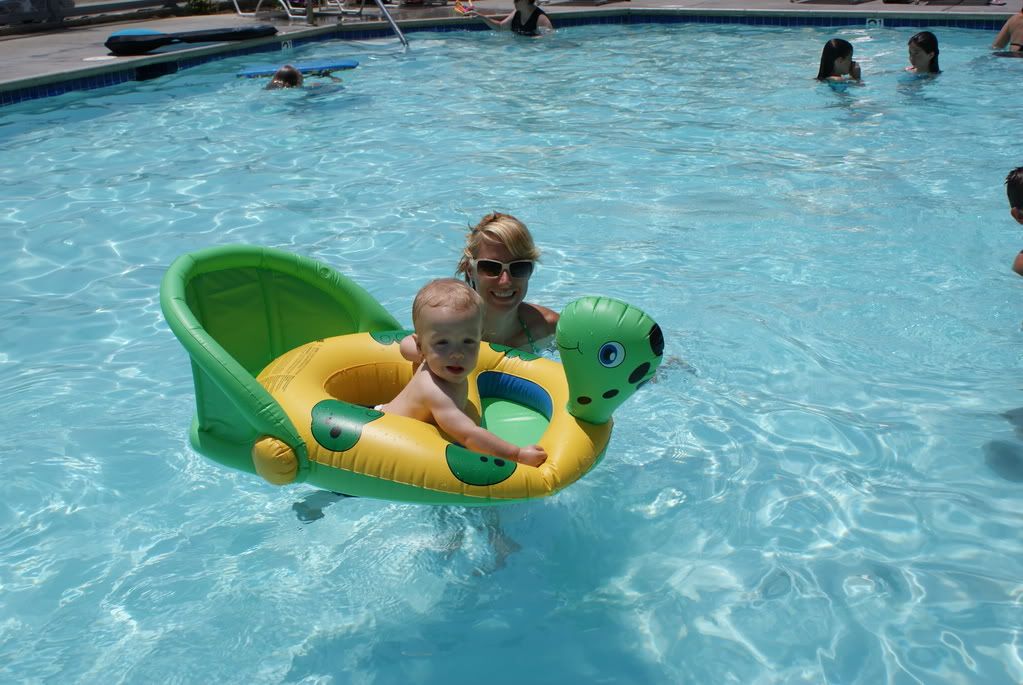 Auntie Beth with Hailey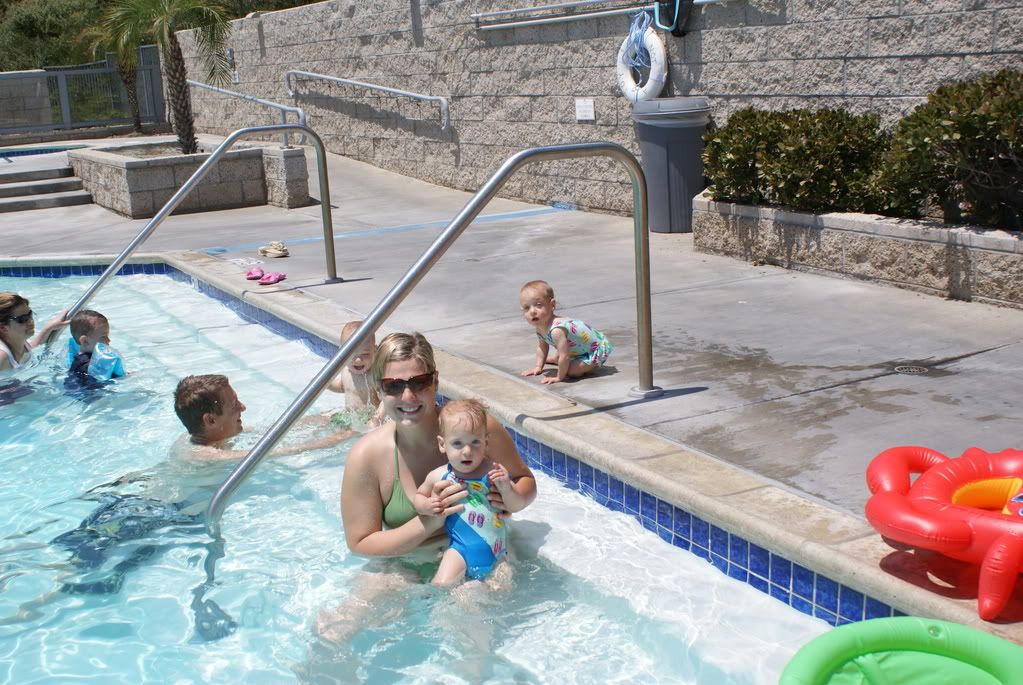 Brooklyn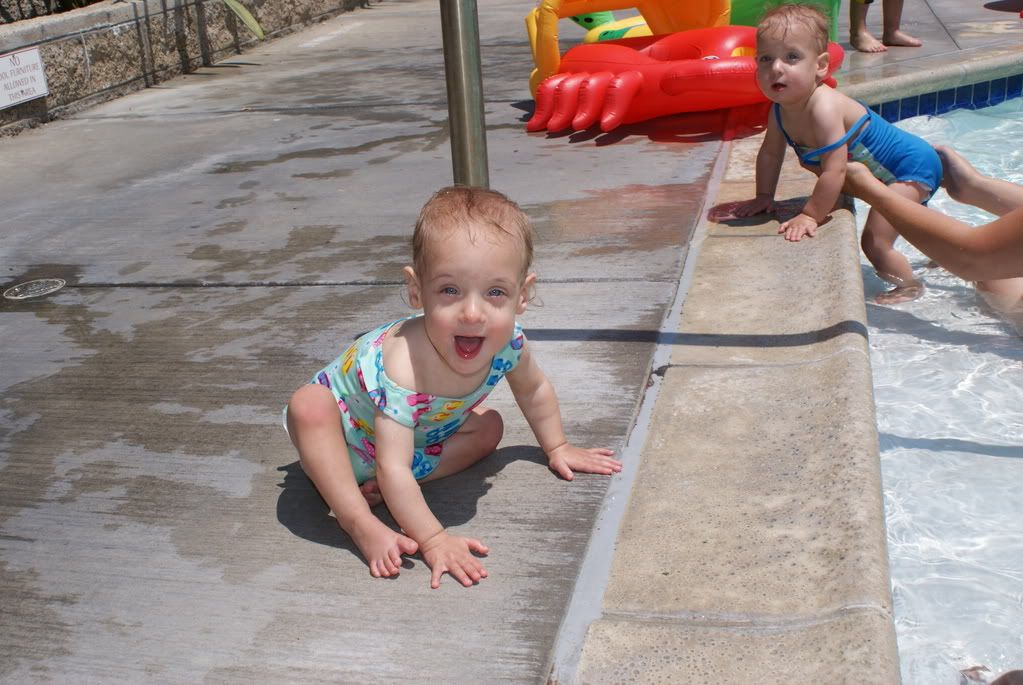 The whole gang - I think we took up half the pool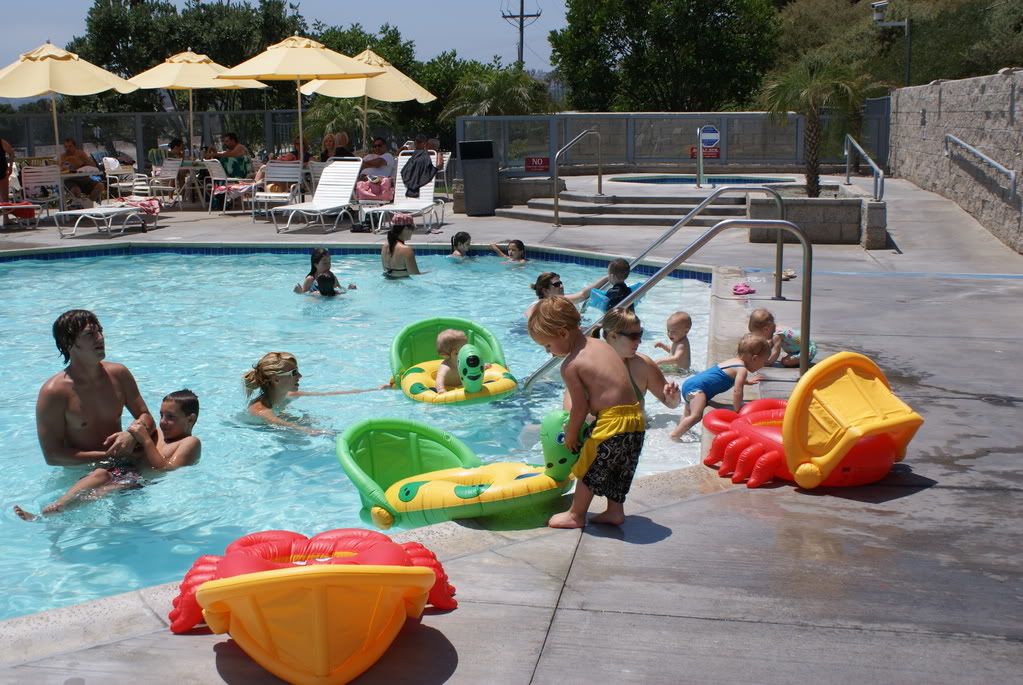 Brooklyn, Dylan and Brian - Aren't they too cute?

"Come on in sis, the water's great!" - Dylan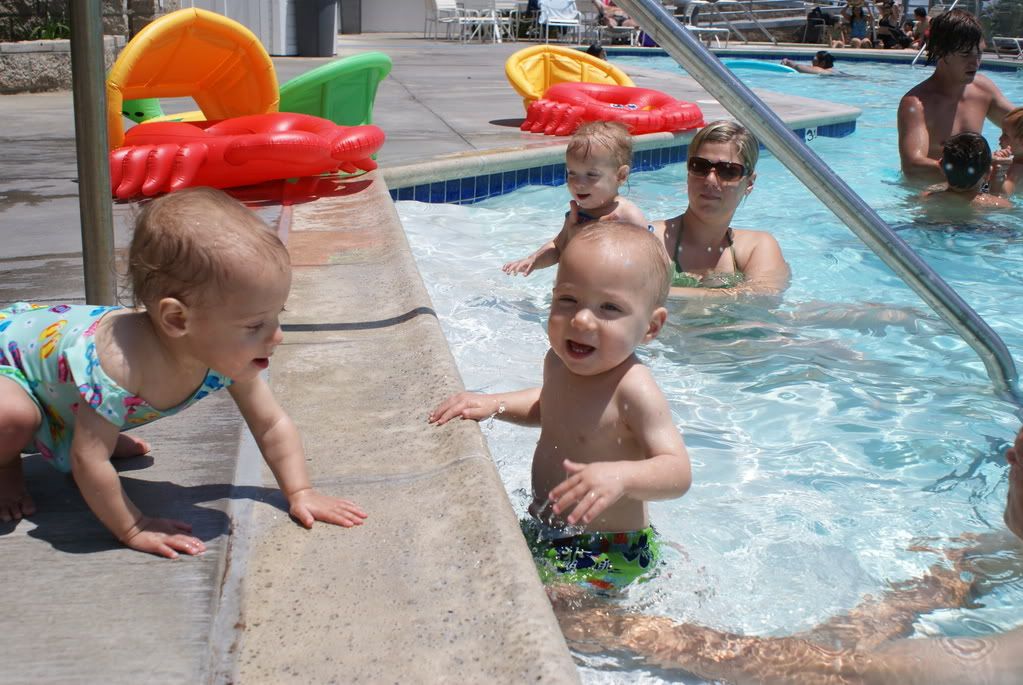 Hailey
Dylan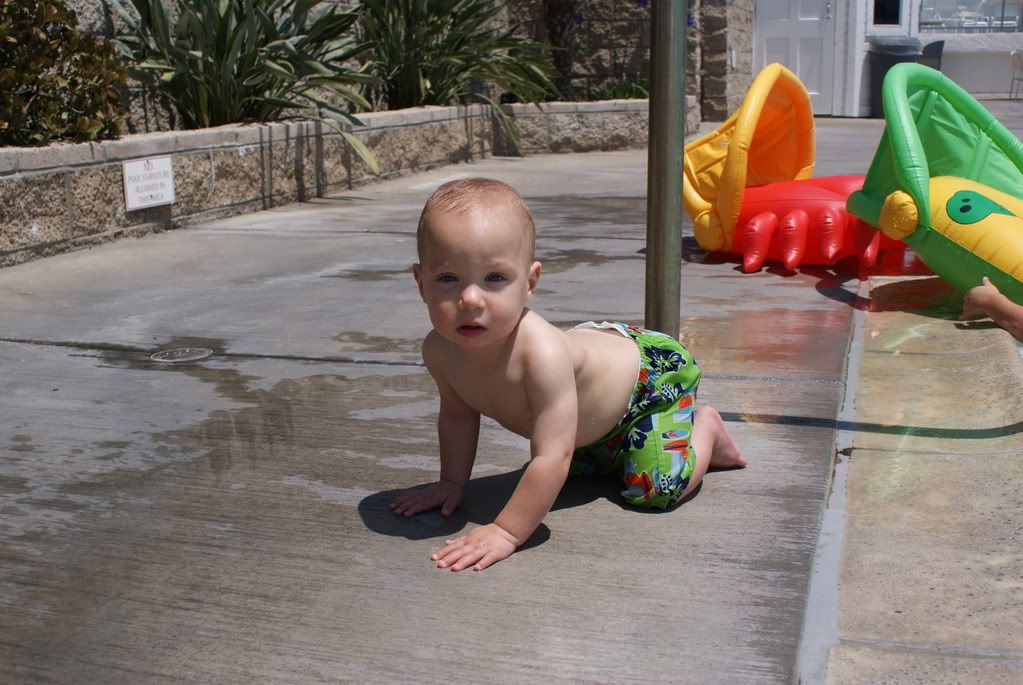 Brooklyn doing the stinkbug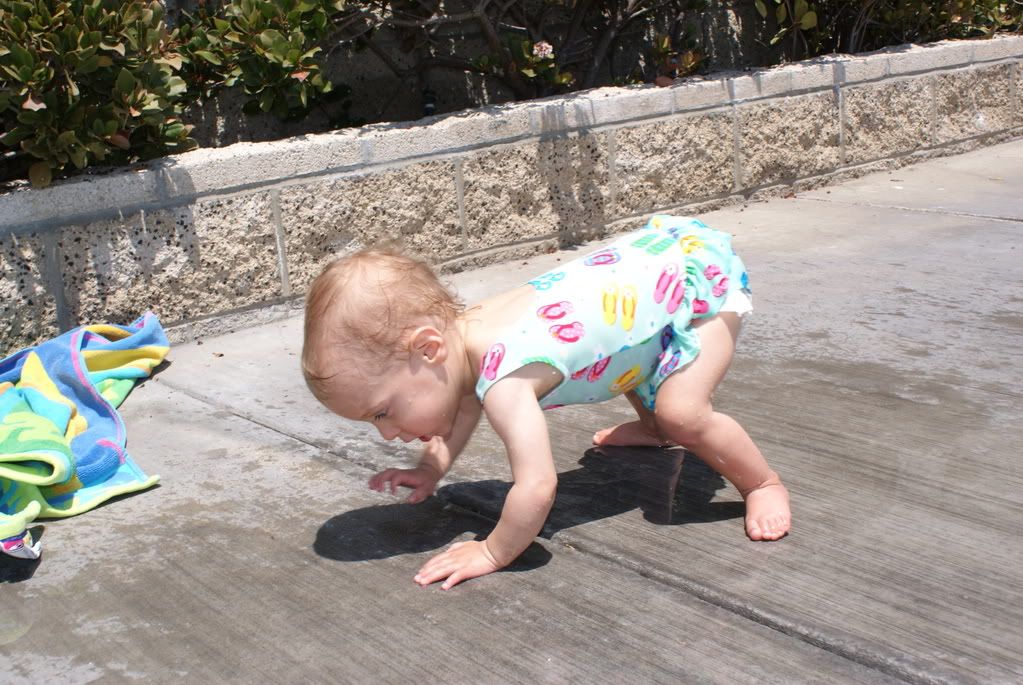 Hunter, Devin and Heidi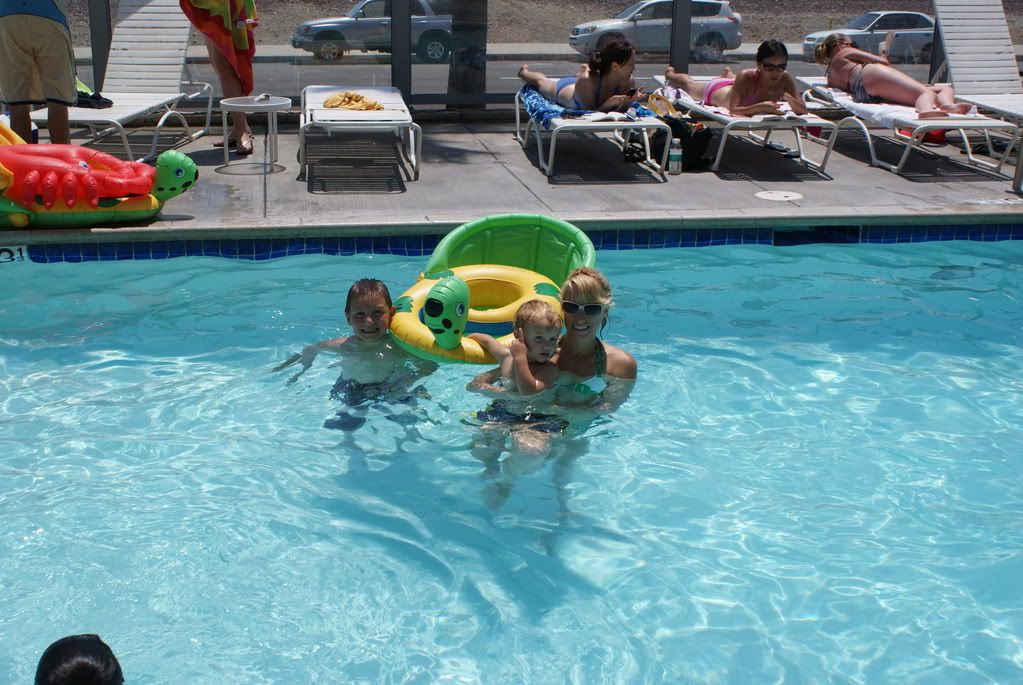 We had beautiful days for our time at the beach. Many thanks to Stephen and Heidi who are always a big help with the kids when we are out and about with them. While Stephen watched his two kids, Heidi, Beth, Brian and I took the fab four to the waves for their first time in the Pacific Ocean. They had an absolute blast. In true Hailey fashion, she wanted to be set free to ride the waves. She has no fear, its kind of scary. Dylan and Connor took a few minutes to get used to it and then didn't want to come out. Brooklyn, just like twin sis, took right to the water, lauging and splashing. One onlooker said they looked like little turtles heading out to sea and they enjoyed watching us try to keep up with them. I'm glad we were there for their viewing enjoyment. They are still putting everything in their mouths and keeping the sand out was the hardest thing of all.
"Pretty please. Just one more ride on the waves?" - Brooklyn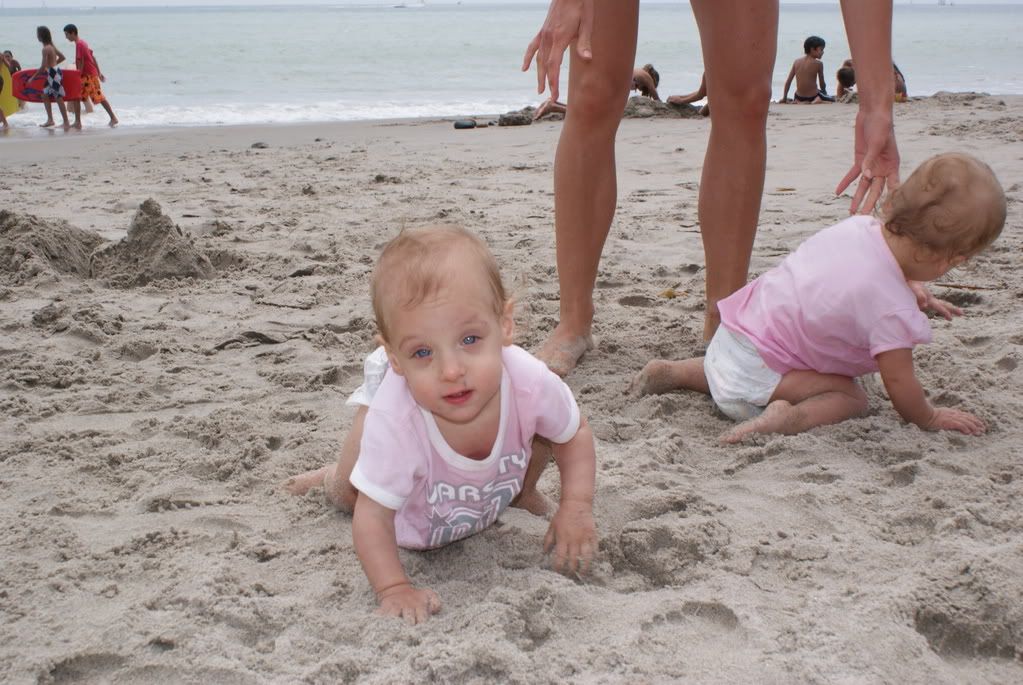 Dylan (sporting a little sand moustache), Hailey, Connor and Brooklyn
"When no ones looking, I can sneak back in for a little more spash time." Hailey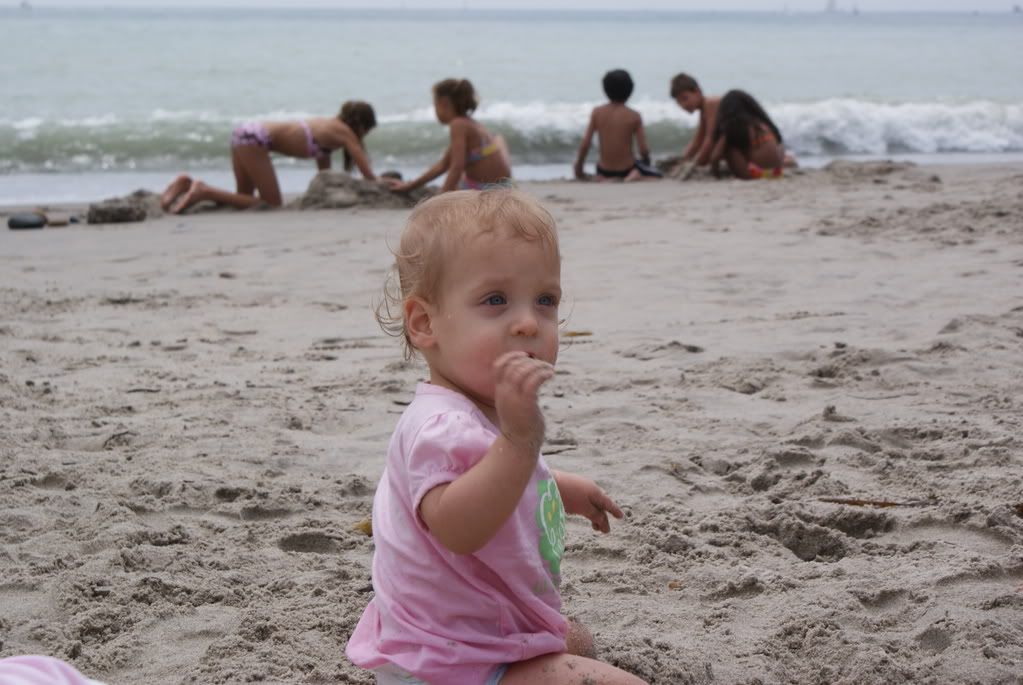 This sand is just too much fun.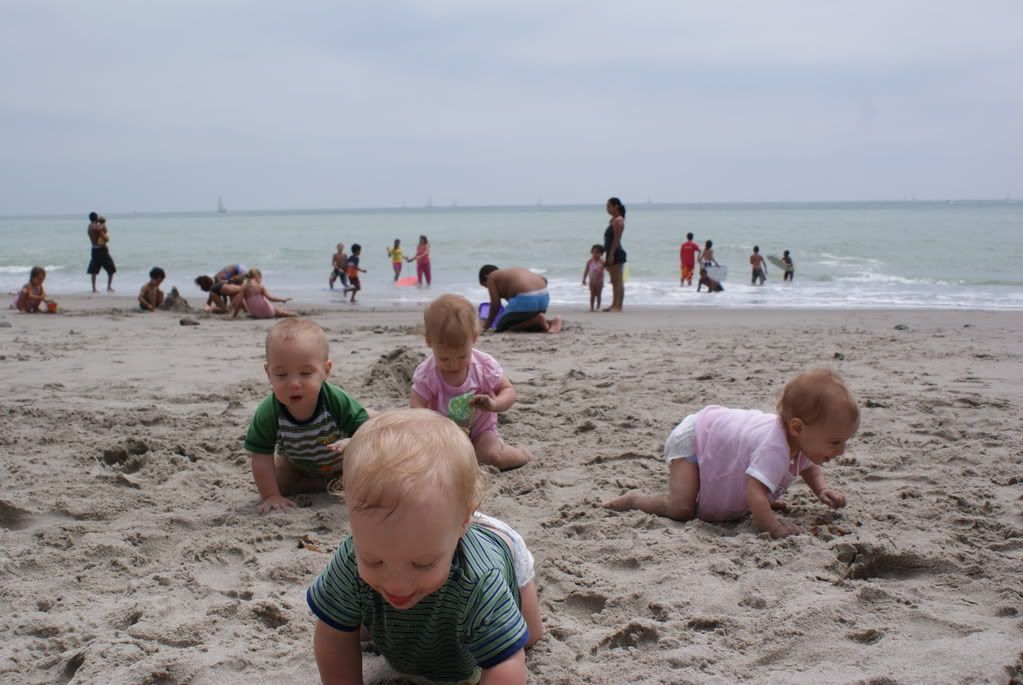 Hailey thought vacation was the perfect time to begin walking. She was right on the verge and just got the hang of it. It was so cute. She was walking back and forth, back and forth just giggling, so proud of herself. Well, the rest of the gang couldn't let Hailey be the only one walking. She started a little spark. Once the others saw her they all started trying harder. The week after we got back Connor started walking and the week after that Dylan started. Those two walked just like their personalities. Connor started with very large wobbly steps and Dylan with small, short, precise steps. Connor is very layed back and Dylan very intense. Now Brooklyn before had no interest in walking. We would hold her hands to help her and she would just let her legs collapse. Not the case now. She wanted to walk whenever possible. The week after Dylan started walking, she pushed herself up and took 3 small steps. That was at the very end of July.
I have more pictures to share, but I will leave that for another post. This one got very long. Now I can finally catch up and keep up. Hopefully:)