Connor had his surgery to remove his tonsils and adnoids and everything went really well. After recovery time, we were transferred to his room and he wanted to eat right away. He hadnt had anything to eat since dinner the night before and it was lunch time. So he had yogurt, jello and apple juice. This was a good sign. He continued to eat and drink without any problems so he got to go home the following morning. He is breathing much better now and is very quiet while sleeping. He was still very sore and it has taken about a week and a half, but Connor seemed to turn a corner this weekend and is finally getting back to his old, happy self.
Connor looking for "Nemo and Dori" in the fish tanks in the lobby of the hospital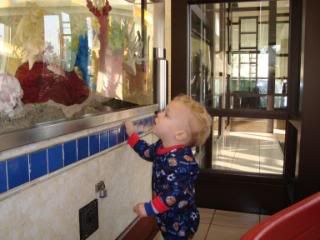 Hanging out in the pre-op room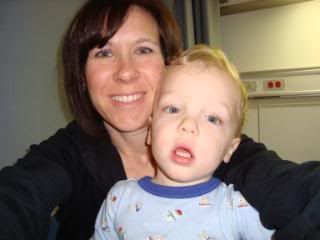 Chowing down after the surgery. After taking this picture I realized Connor had yogurt and jello all over his mouth. Poor little guy was still a little out of it.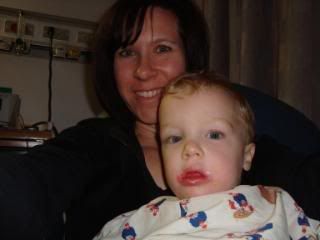 The big guy got to watch videos and sit on Mama's lap all afternoon. Ahh, heaven!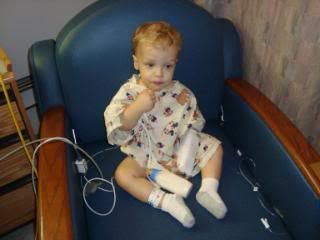 Daddy brought us some dinner and Connor got a little "Daddy time" while Mommy got a little break to stretch my legs.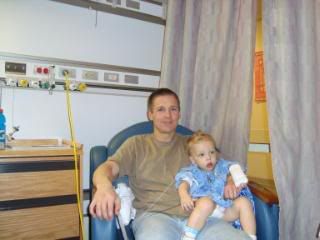 While Connor and I were preparing to come home the next morning, Brian was having to take Dylan and Hailey to urgent care because they were still running fevers. Dylan ended up having an ear infection. Hailey just got better (Yay). So after a while of being off our schedule and having kiddos not feeling the greatest, we are finally on the mend.
Now if we could just return to our normal sunny So. Cal weather. (I know we need the rain, it just puts a damper on things.)