Yesterday was Brittney's first soccer game. She plays on the high schools varsity team. We are so proud of her determination and hard work that she put in to be ready to play after having knee surgery last March. We werent sure whether she would be ready or not, but we should have known she would. Once Britt decides she wants to do something, she gives it her all. Heres an example. When she was ten, Brittney played softball for the first time. This being her first year, she was at a disadvantage to the other girls who had been playing for years already. Well, she decided she wanted to pitch, which is one of the hardest positions. She practiced and practiced and dogged the coach to work with her and give her pointers. The team already had a fantastic pitcher, but Britt kept at it and ended up pitching during the season and helped her team win the final game of the season. They ended up being the division champs. There are many other such examples throughout the years, so it is no surprise that she is playing now. Her team ended up losing the game 2 - 1, but it was a winning game for Brittney.
Go Brittney, Go!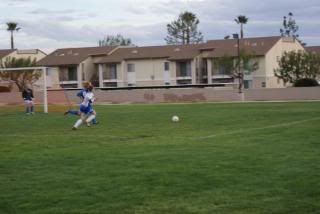 Daddy, Connor, Aunt Beth, Brooklyn, Gramma Ginny and Dylan
cheering for Brittney.
Get that ball, Britt.
Gramma Ginny and Dylan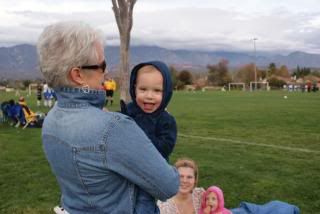 Dylan kept trying to run out to the field. Wont be long before he's out there playing.
"When I grow up, I want to be an awsome soccer player like my big sis, Britt."
Hailey