The kiddos had an appointment out in Los Angeles earlier in the week. This was the first fairly long trip we have made with them without them being asleep, or at least part of it during nap time. They did awsome! Auntie Beth came with us and did some entertaining in the back seat. After the appointment, we took over an Arby's, had lunch and impressed a couple young men with our adorable quadruplets. All the kids kept flashing them cute smiles. How could they not be impressed. After lunch, we had some time to kill, and wanted to get the quads out of the car seats for a while. Beth remembered the trains at Griffith Park werent to far away, so we headed there to let the kids run around and then hopefully sleep on the way home. It turned out to be a great trip.
Dylan, Brooklyn, Hailey and Connor at Travel Town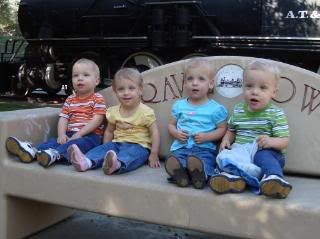 Family Pic :(minus Britt, poor girl had school :(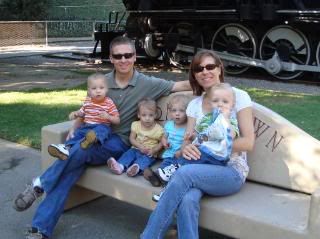 Heading to see the trains
Auntie Beth and Hailey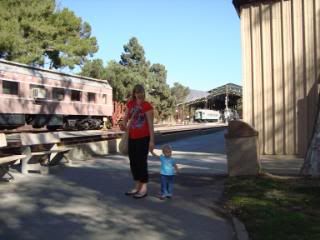 Dylan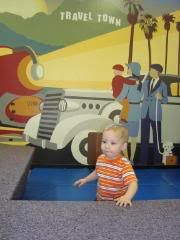 Ramps and Stairs are the best!
Loads of trains to look at and what do we like best? The rocks on the train tracks.
Gotta love toddlers!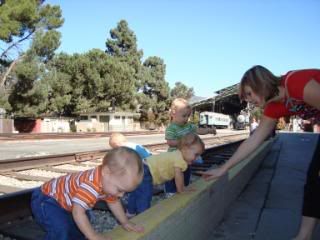 Train Ride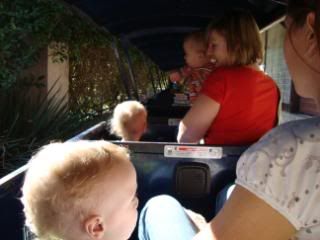 Daddy and Brooklyn
Brooklyn looks like she is ready for her nap.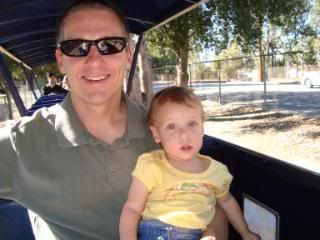 Choo, Choo