Alright, so I'm not so good at keeping up on this whole blog thing either. I thought since Brian wouldn't have to send updates to Isaac for the website, we could keep up easier. Guess not.
I apologize to anyone who checks it frequently (which is probably not many now!). So I thought I would do a blog on June, one on July and catch up on August.
OK, so the news on the family. Brian is still very busy working two jobs. He works his day job with the Gas Co. and then comes home and works on his website until we go to bed. Hopefully it will be finished fairly soon so we can all enjoy doing more day to day stuff together. I can't say enough though how I appreciate all the hard work he puts in so I can be at home with the kiddos. Whenever Brian comes home for lunch or the end of the day, he is greeted with four enthusiastic versions of "Dad- ee!!"
Big sister Brittney is recovering well and continuing physical therepy for her knee after replacement surgery of her ACL back in March. She is getting ready for her junior year in high school and just got her drivers permit. She is looking foward to getting in all the hours required for her license. Guess she will be the one driving anywhere we go now.
Brians sister Beth continues to come over in the afternoons to help me with the fantastic four. She has been helping since last June and I so appreciate all the time she has devoted to our family. The kids just love her.
I, of course, am doing the most amazing, wonderful, rewarding job I could ever have asked to do. I get to be at home with my amazing, wonderful children.
Back to June.
Some highlights for June for the quads- Hailey started taking steps away from the furniture
Brooklyn started cutting her top teeth - all four
We had our appointment for the High Risk center. They get looked at by a physical therapist, a nutritionist and the high risk doctor. They were all amazed with how well the kids were doing. Connor weighed in at 21.6 lbs and was 28 inches. Dylan was 18.3 lbs and 28 inches long. Hailey was 17.5 lbs and 28 inches. Little Brooklyn tipped the scales at a whopping 13.45 lbs and was 26 inches. My kiddos have never been very big eaters. When they were babies, I would hear of other little ones downing their 8 oz. bottles while mine would barely finish 4 or 5 ounces. Well, except Connor who has never had a problem with eating. Anyways, their weight was the big concern of the appointment. The doctor wanted us to put Dylan, Hailey and Brooklyn on PediaSure. They were already still on the Go and Grow formula because of their low weight, and now we have to add in more. Well, Brooklyn, who really needs the extra calories, has some allergy to the PediaSure. She vomits anytime she drinks it. The first time I thought she just got the flu, but after waiting a few days with no problems, I tried the PediaSure again and sure enough, she got sick again. So no PediaSure for Brooklyn. Instead I double the amount of powder for the formula and give her all the high fat foods she will take.
On to the pictures:
Auntie Crissi, Cousins Kiley, Chloe, Caity, Gramma Ginny and Connor
relaxing before celebrating cousin Micah's 1st birthday
Papa Paul and Dylan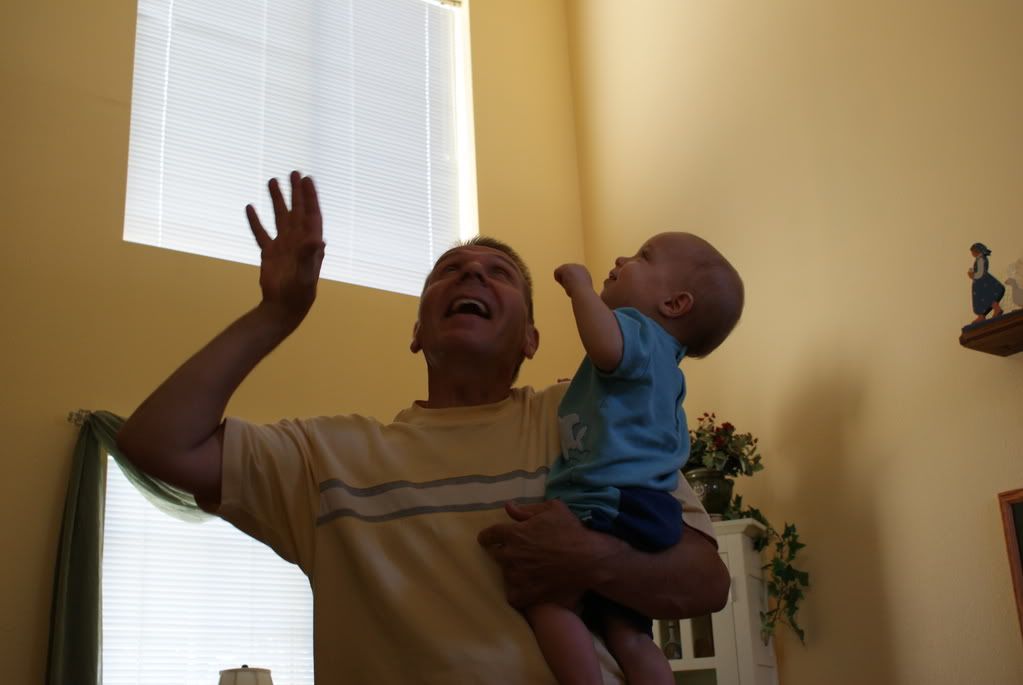 Papa Paul, Dylan and birthday boy Micah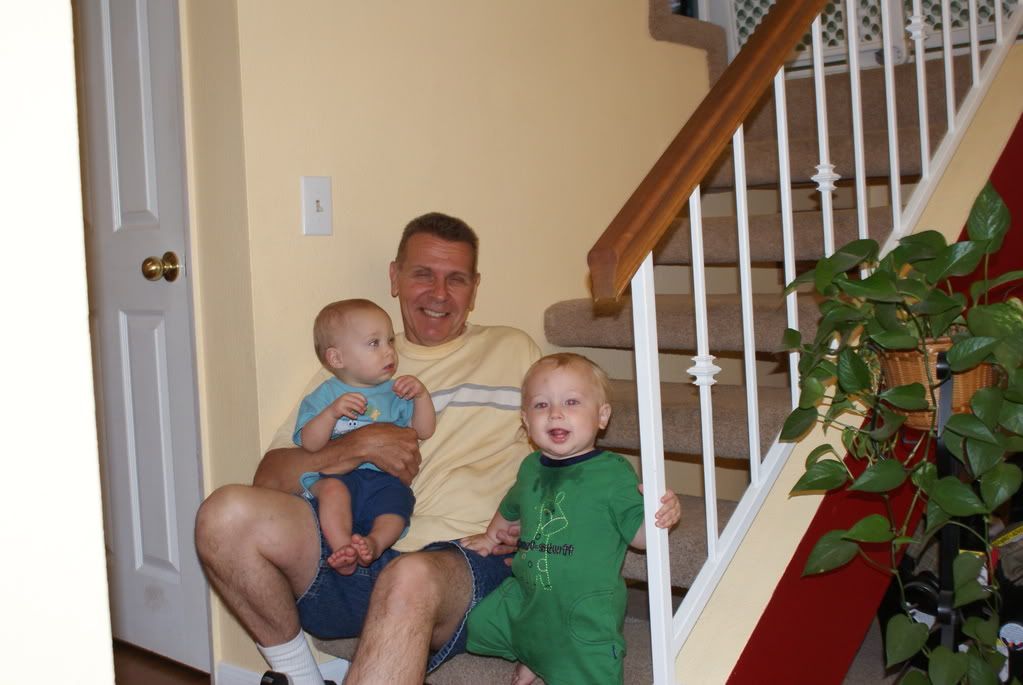 Cousin Abby came to join in the fun
Hey Mom, Why don't you let us play on our stairs? (Dylan)