First off, funny story. I went to the grocery store yesterday and while carrying in bags the kiddos wanted to help. So they were helping carry in easy stuff and somewhere in the middle of all of it a frozen turkey pot pie went missing. I, of course, at the time did not realize anything was gone and went about putting away groceries, cooking dinner, feeding the kids and us and then cleaning up the kitchen. As I was cleaning the kitchen, the thought went through my head that Hailey was very quiet. I dismissed the thought, thinking she was just over on the pillows with one of her collections. Not long later, Hailey came walking up to me holding something. "Mommy here, mommy here." Hailey had found that missing turkey pot pie, opened the box and proceeded to eat the crust off the top. I dont know how tasty it was, but she seemed to like it. I'm just glad she didnt get sick. :)
The missing, then found, turkey pot pie. Dont you just love the teeth marks?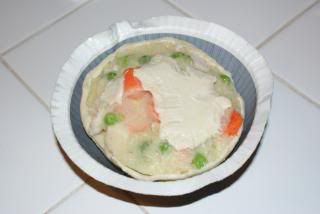 The little ones have been wanting to help out alot. Connor was a bit fussy the other day and so I recruited him to help me fix dinner. He helped tear up the corn tortillas and add them to the mixture and put the final cheese on top. He had a blast and we made a very tasty casserole.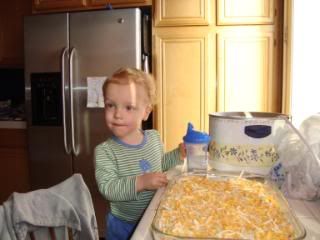 For Christmas, Auntie Amy and Uncle Isaac got the kids some of these flip-up books and they absolutely love them. Brooklyn's taking a little time to get in some reading after dinner.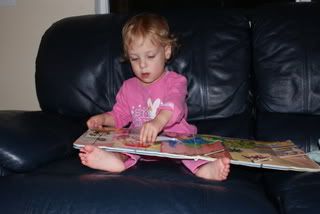 Just like Mommy. The girls have been trying since before they were walking to get into my shoes. Well Hailey took it to another level. She is in my shoes
and
looking over the phone bill which she swiped out of the bill drawer.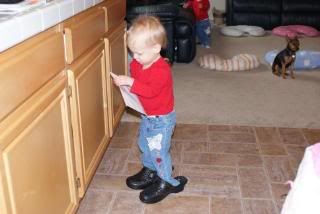 I have been meaning to put locks on the drawers since it has become a favorite past time to pull all the drawers out and reach in to grab whatever they can get out.
We have finally taken down the gate at the bottom of the stairs. The only two rooms upstairs are Brittneys room and her bathroom, so there has never been a need for the kiddos to be up there. They are jazzed that we have finally taken away the restriction and the stairs are now ok to navigate. They do really good on them. Hailey insists on always walking down standing up, but Connor, Dylan and Brooklyn all love sliding as well as walking down. I was a little nervous at first, thinking they would be playing on them all the time, but after the first couple days, the excitment wore off and now they just go on them every now and then.
Connor on his way down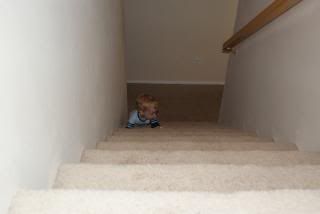 Best Buds - Connor and Dylan
Connor at the top of the world (stairs)